Heather Carreiro outlines her experience of her school's journey of bringing the outdoors inside.
"As a Junior Ranger, I wonder about nature, and learn how to care for it!" 
Twenty-odd kindergarteners repeated the motto, their eyes shining under wide-brimmed ranger hats perched on their heads. In the suburbs of Korea's densely populated Gyeonggi province, the Applied Learning team was introducing a new nature education initiative, class by class, from early years to grade 5. The excitement was palpable, and these learners were more than ready to explore nature both inside and outside the classroom, but especially if it involved putting on their mud boots and getting out the magnifying glasses. 
I've always wondered what it would look like to combine elements of summer camps and scouting programs with international education in a more urban setting. Taking on the whole-school role of Applied Learning Coordinator at Korea International School has given me a chance to pursue this. When I first arrived in July 2019, experiential education trips and service learning programs had been combined under my team's responsibility, and were primarily focused on secondary students. Off-campus learning overnights started in grade 4, and a wonderful opportunity existed to develop strategic applied learning initiatives, especially around nature education and sustainability, for our youngest students.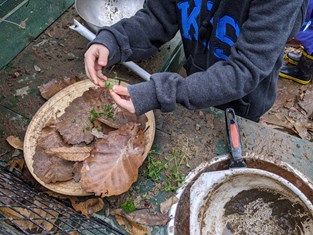 An Essential Element of Applied Learning 
Nature education dovetails well with other elements of the school's elementary teaching & learning program. Teacher professional learning in areas such as play-based learning and Reggio Emilia approaches encourage building autonomy through unstructured play and seeing the environment as a teacher. Responsive Classroom focuses on creating a safe, fun, and engaging learning community. Going outdoors and engaging with nature helps facilitate these goals. In addition, the restrictions of the COVID-19 pandemic compounded concerns over the effects of nature deficit, as many children globally spent an unprecedented amount of time indoors, sequestered in their apartments. 
The benefits of outdoor play and nature education are varied and well-researched. For children, nature play builds executive function, encourages risk taking, reduces stress, and improves concentration and focus. It also allows students to practice social skills and communication, build an appreciation of nature, and learn personal responsibility in an environment of activity and movement (Harvard Health Blog, Parenting Science). An impetus to develop our outdoor learning spaces was pressed upon us by COVID. Essentially, it was safer to play outdoors where the virus had more trouble spreading, and government protocols did not allow any off-campus field trips unless the social distancing level was low.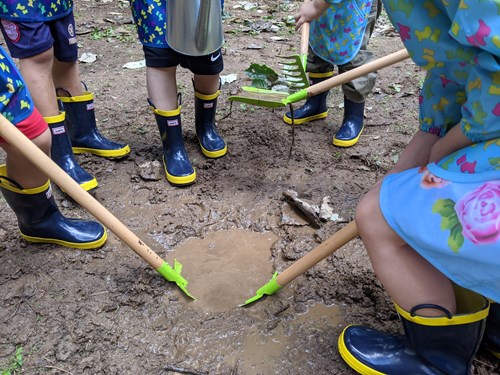 Implementation of the KIS Junior Rangers Program 
In the 2019-2020 academic year, KIS Elementary Design teacher Nikki Vreugendhil led her second graders in a design process to revamp an area called the Eco-Hotspot. We fast-tracked putting those plans in action, while simultaneously creating plans to transform our forest area and an empty outdoor terrace into bookable learning spaces. The Eco-Hotspot went from an overgrown, swampy area to a magical learning space filled with loose parts for creative play, a community garden, hundreds of flowers and trees, bug hotels, and colorful ceramic gnomes. Many of these additions were teacher-initiated and student-designed. Creating the systems and risk management procedures to use the spaces easily and regularly proved just as important as the physical transformation. Early in the year, we partnered with the Korea Orienteering Federation (KOF) to create detailed natural-feature maps of the campus and its outdoor spaces. KOF also provided an in-depth workshop on designing orienteering courses that complement the curriculum. Classroom bookings for outdoor learning spaces went from a handful to 200+ over one academic year. 
From the teaching and learning side, we needed a way to integrate a young environmentalist's mindset into the classroom. The goal was to create a concept that supported the elementary school's transdisciplinary units in a way that felt connected, rather than disparate. By working with grade-level teams and adopting a continuum of standards from Outdoor Education Australia, we drafted a progression of skills and corresponding badges. The physical elements - ranger hats, badges, a KIS Philbert the Ranger mascot, a banner for badge display - helped generate excitement among students and parents, and to make nature education and environmentalism a tangible part of the KIS student identity. 
Impact & Future Objectives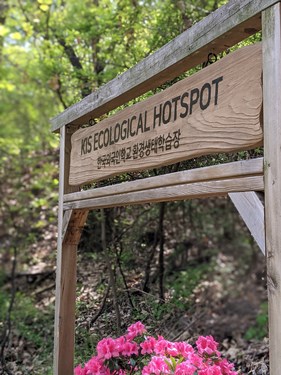 Our initial goal in developing outdoor learning spaces around the KIS campus was to encourage outdoor learning, nature education, and unstructured play. At the elementary level, this is now a part of the school's learning culture. We hope to organize additional professional development on how to use these spaces and their natural resources to integrate nature education in everyday learning. In the upcoming academic year, our goal is to use the standards framework we've created around six focus areas of applied learning to conduct an audit and consider how we can provide additional support to further learning goals. 
Another goal is to provide more opportunities for our secondary students to engage in outdoor learning. While our traditional off-campus field trips did not take place in the 20-21 academic year, we were able to host an on-campus applied learning day for our middle school students.
This day provided a break from the timetable and allowed students to engage in various nature education, outdoor education, and sustainability-focused activities. In the coming year, we plan to expand these opportunities and the use of outdoor learning spaces for all KIS students.